Latest News
Ida Vale Inspection Day
---
Farrer 130254
Farrer 130254 was purchased by Ida Vale in 2014 from NSW at a record price of $17000.
---
A comparison of livestock enterprises including self replacing
The emergence of very large flocks of cleanskin sheep in pastoral Queensland and other states suggests private investors and former sheep people are convinced they are a viable option in environments that could be described as semi arid and best...
---
STOCKSMART FENCE PEGS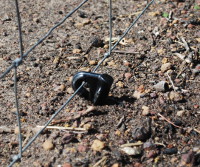 Ideal fencing product for Dorpers and other breeds that tend to burrow under Ringlock style fencing. Works by holding down bottom wire to prevent and discourage sheep from trying to get under. Position one between posts or star pickets as a prevention method or quickly and easily repair fences that have been compromised.
QUICK AND SIMPLE TO USE
AVAILABLE IN DIFFERENT SIZES TO SUIT HARD AND SOFT GROUND
REUSABLE
LONG LASTING
INCREDIBLY STRONG
MADE IN WESTERN AUSTRALIA
COST EFFECTIVE
50 CM PEGS $1.60 + GST
30 CM PEGS $0.85 + GST
22 CM PEGS $0.65 + GST
AVAILABLE AT IDA VALE SALE DAYS, FIELD DAYS AND ON FARM
POSTAGE SERVICE AVAILABLE
PLEASE CONTACT US FOR MORE INFO