Latest News
New WA White Suffolk record of $29,250
New WA White Suffolk record of $29,250
Kane Chatfield27 Aug 2020, 3 p.m FARM WEEKLYFollowing strong pre-sale enquiry, the impressive Ida Vale White Suffolk ram 19-4051 penned in lot 17 was brought forward to open the sale.
And it didn't...
---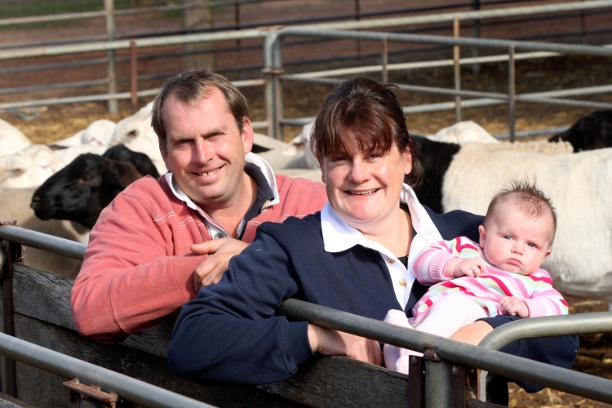 Brazil bonus for Ida Vale stud principal

Setting up shop in Brazil may sound daunting but for Kojonup White Dorper and Dorper stud Ida Vale it's been nothing but positive.
Stud principal Tamesha Gardner and her partner Andrew Greenup set up Ida Vale Brazil two years ago in partnership with Brazilian local Bruno de Barros.
Bruno came to Ida Vale in September 2008 with his brother to put forward his idea of the Ida Vale Brazil partnership.
"They were very enthusiastic and happy to secure the Ida Vale name in Brazil," Tamesha said.
Setting up a Brazilian arm is a new chapter in Ida Vale's long association as a meat breed stud.
It was started by Tamesha's grandfather Charlie Gardner in South Australia with a Dorset horn stud, which were replaced with Poll Dorsets.
The stud was then moved to Kojonup in 1964 and 20 years later Tamesha's father Bronte was the first person to breed White Suffolks in WA.
The last of the Poll Dorsets were bred in 1996 and replaced by Dorpers the same year and White Dorpers were introduced in 1998.
For Tamesha and Andrew, setting up Ida Vale Brazil was a natural move given the popularity of Dorpers in the South American country.
Although Brazil is focused on cattle production, the easy care and shedding nature of Dorpers is attracting interest.
The partnership works with embryos collected from Kojonup and sent to Bruno who then implants them in recipient ewes, rears the lambs and sells the progeny.
"We are only working with 100 embryos. We could send more but 100 is ample to do everything correctly," Tamesha said.
"Maybe in the future we will send more."
"At the moment we are still in the early stages and if we just make some good friends and cover our costs for a few trips at a minimum that's great."
But with eight month old stud ewes making up to $8000 and even more if they win shows, there is plenty of opportunity ahead.
In March, Ida Vale Brazil showed four month old lambs at the Fienco Show at San Paulo and came fourth in classes where the competition ranged from 20 to 60 sheep.
"Brazilian's love show animals and they enjoy the status of owning an animal that has won a show," Tamesha said.
And being a strong agricultural country, business is fairly similar to Australia said Tamesha.

(Article courtesy of Kate Matthews the Countryman 9 Sept 2010)